Best Lotion For Massage Therapy: An Ultimate Guide
When giving a massage, you usually have three options: lotion, cream or oil. Among the three, I prefer lotion because it's absorbed quickly and doesn't leave that greasy feeling on the skin.
But massage lotions aren't created equal. For this reason, I have searched far and wide for the best products, relying both on expert opinions and online reviews to help me choose the cream of the crop.
Join me as I carefully select the best lotion for massage that can turn simple human touch into an unforgettable, revitalizing experience.
How To Choose The Best Lotion For Massage Therapy.
The following criteria were designed to ensure that the chosen products will meet the needs of both the person giving the massage and the one receiving it:

Ingredients.
When choosing the best massage lotion for massage, it's best to go organic. Natural oils like grape seed, avocado, almond, and jojoba are very light on the skin and don't leave greasy residues. However, be careful when choosing lotion with oil additives. For example, some people are allergic to nut oils, in which case other organic oils like coconut is the best alternative.
In terms of price, lotions with natural ingredients tend to be more expensive than those without. You might think cheaper lotions are better for your budget, but these products usually have higher concentration of mineral oils. Vaseline, for example, has a high mineral oil content which isn't absorbed by the skin, clogs the pores and causes breakouts.

Scent.
Majority of the people receiving a massage have high sensitivity to fragrances, hence the need for unscented products. Another advantage of using unscented lotions is we can easily incorporate aromatherapy into the massage if the client asks for it.
On the other hand, some people prefer scented massage lotions. If this is the case, you can avoid the trouble of manually adding essential oils by choosing those that already have these ingredients. For example, depressed or anxious clients will benefit a lot from massage lotions scented with lavender or patchouli.
Viscosity.
Viscosity is defined as the amount of resistance of the fluid to flow. This is often used interchangeably with consistency. Massage lotions and creams have high viscosity due to the combined effects of the water/oil emulsion, stabilizing agents and other ingredients.
When choosing the best lotion for massage, it's important to determine the modality or massage technique you'll use. For example, a simple light relaxation massage requires a less viscous lubricant like oils which have great glide. In deep tissue massage, however, you need something that is not too slippery–such as a lotion–for you to apply deeper pressure on target areas.

Therapeutic Properties.
According to Oregon State University's Linus Pauling Institute, oil-based products such as massage lotions and creams are rich in essential fatty acids (EFAs) such as omega-6 and omega-3 that help keep the skin healthy.
Essential oils added in these products also have specific health benefits. Almond oil, for instance, has been found to help prevent "UV light-induced photoaging on the skin" as revealed by a study published in the March 2007 issue of Journal of Cosmetic Dermatology.
Another fine example is tea tree oil which has antibacterial properties and is ideally used on acne-prone skin. Those with scars, wrinkles and stress marks, on the other hand, can benefit a lot from lotions and creams containing cocoa butter, shea and mango.
Best Lotion For Massage Reviews: Our Top Picks.
Among the three common massage lubricants, lotion is the thinnest and the least viscous. This is because it has a higher percentage of liquid than oil. As a result, it is absorbed by the skin quickly and often doesn't leave any oil residue.
Sacred Earth Massage Lotion.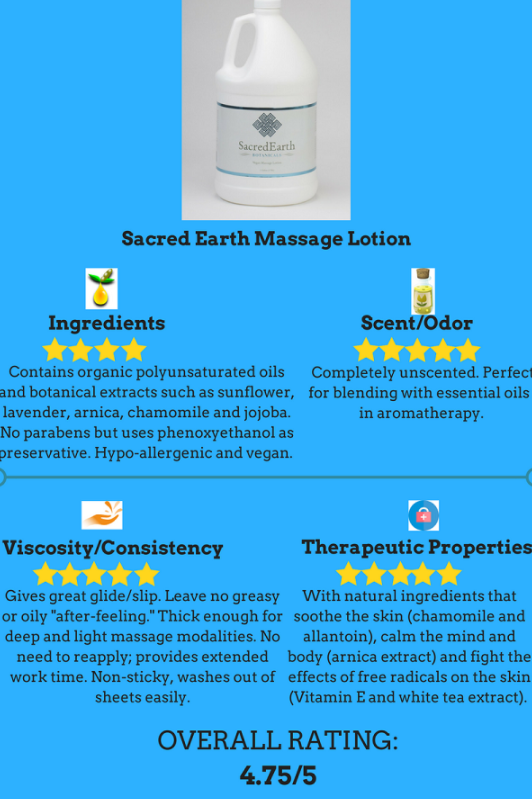 The Good: Through its products, Oregon-based Sacred Earth Botanicals has effectively established its brand–one that is organic, natural and vegan. The Sacred Earth Massage Lotion is one fine example. This lotion has great consistency and workability. It's not sticky and doesn't leave greasy residues either on the skin or the sheets.
The Bad: This unscented, hypo-allergenic lotion is composed of organic extracts that soothe the skin, calm the mind and combat the harmful effects of free radicals. But while it doesn't use parabens (a possibly carcinogenic preservative commonly found in cosmetic products), this lotion has minimal amounts of phenoxyethanol, another preservative that has been linked to eczema and allergic reactions.
The Bottom Line: Sacred Earth has truly raised the bar in making excellent massage products. This one, for instance, has everything we're looking for in a massage lotion: versatile, unscented and blends well with essential oils. If you use massage lotion on your business or give massage regularly, this one should meet all your needs.
Biotone Massage Lotion.
The Good: Arguably the most popular and highly recommended massage lotion in the industry, the Biotone Massage Lotion is enriched with natural extracts proven to nourish the skin and give it a youthful glow. These include apricot oil and grape seed extract. It also provides clean absorption but long-lasting lubrication, which means extended performance, less reapplication and more money saved for the massage therapist.
The Bad: Since parabens are generally perceived as a health hazard, the Biotone Massage Lotion uses another alternative: Iodopropynyl Butylcarbamate, another preservative that is just as dangerous and has actually been linked by some studies to allergic reactions.
The Bottom Line: It's apparent why Biotone Massage Lotion has gained legions of fans over the years. Massage professionals have praised it for its non-sticky, non-greasy consistency. And while it's easily absorbed, it gives enough glide, thus preventing the need for continuous reapplication. If you have a massage business that requires huge volumes of massage lotions, this Biotone lotion has got you covered.
Soothing Touch Massage Lotion.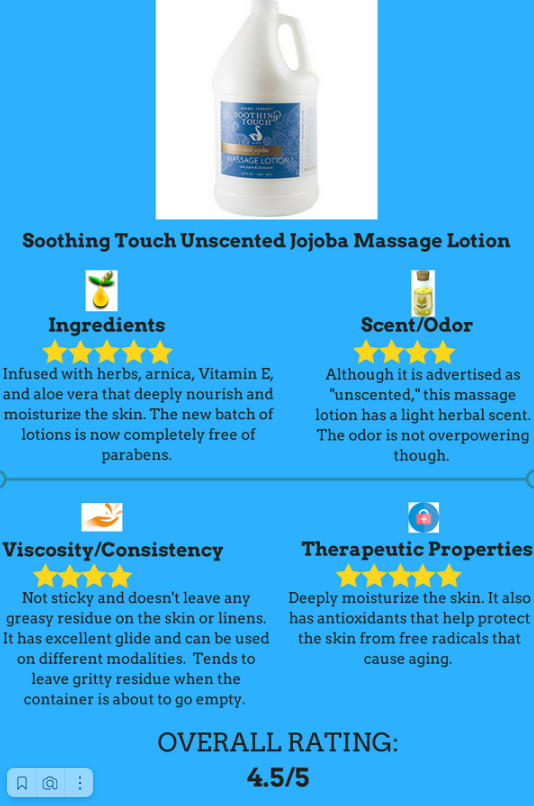 The Good: Made in New Mexico, USA, this Soothing Touch Massage Lotion has the perfect blend of natural ingredients that effectively and deeply moisturize the skin. It has excellent glide and ideally used in almost all massage modalities including sports, Swedish and deep tissue massage.
After being criticized for its methylparaben content (a known carcinogenic), Soothing Touch has ensured its current batch of massage lotions is 100% paraben-free.
The Bad: This lotion has a light herbal scent. Nothing overpowering, but the term "unscented" can be a bit misleading. It also leaves some sand-like residue when not used for a very long time or the bottle is about to go empty.
The Bottom Line: Notwithstanding its few minor imperfections, this product is at par with the Sacred Earth Massage Lotion in terms of glide, absorption rate and overall quality. Rich in moisturizing and rejuvenating natural ingredients, the Soothing Touch Massage Lotion is perhaps the best choice for those with dry, dehydrated skin.
Bon Vital Massage Lotion.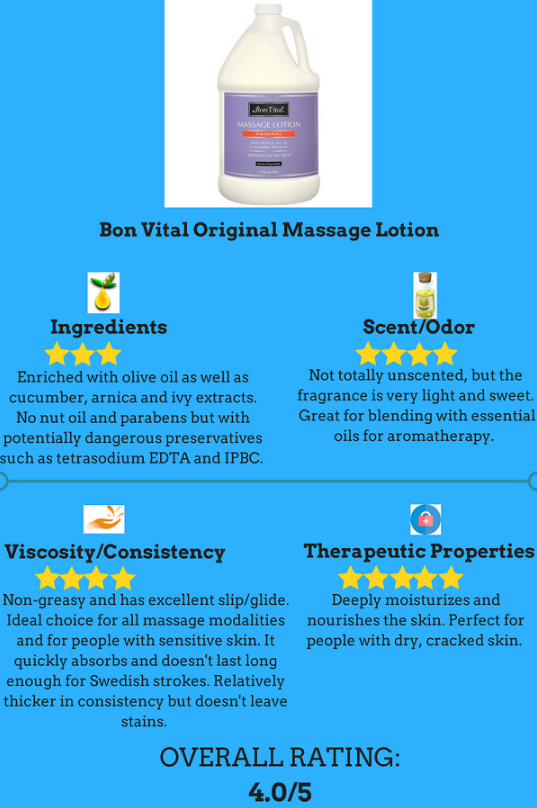 The Good: One of the most popular massage lotion brands, the Bon Vital Massage Lotion has the perfect blend of skin-nourishing natural extracts such as arnica, cucumber, ivy as well as olive oil. With a very faint scent that pleases even the most discriminating of users, this lotion is ideally blended with your choice of essential oils for that relaxing aromatherapy.
The Bad: This massage lotion is a little bit thicker than other products, requiring users to dilute it with water just to have the right consistency. In addition to that, the list of ingredients suggests this lotion is anything but all-natural. Although it doesn't have parabens, it uses other preservatives such as Iodopropynyl butylcarbamate (IPBC), which may cause allergies or contact dermatitis, and tetrasodium EDTA, which is made from known carcinogens.
The Bottom Line: Bon Vital Massage Lotion is a great choice if you're looking for a product with great glide and is applicable for every massage modality. Notwithstanding its chemical components which the manufacturer can easily correct if they want to, the Bon Vital is perhaps the best massage lotion to buy if longevity and workability are your major considerations.
Tei Fu Massage Lotion.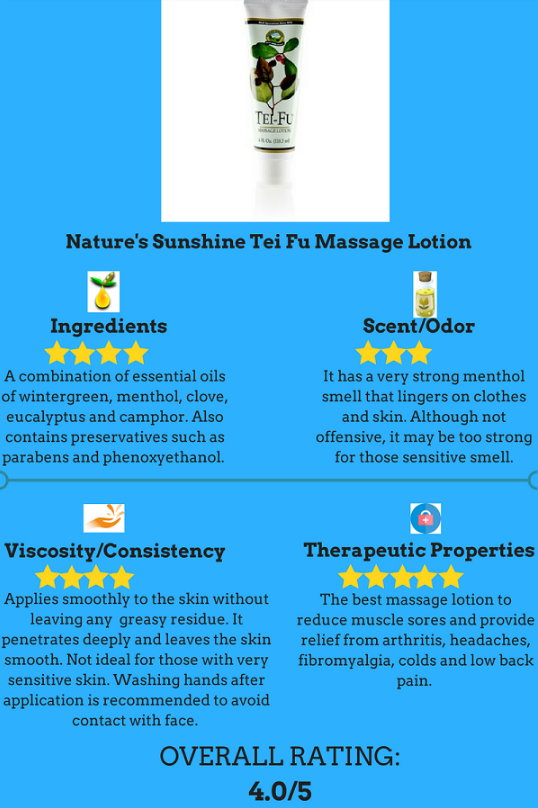 The Good: Nature's Sunshine Tei Fu Massage Lotion deeply warms and penetrates the skin for sore muscle relief. It's something that both massage therapists and their clients can enjoy. It applies smoothly to the skin and isn't greasy. A great choice for those looking for a massage with a therapeutic twist.
The Bad: It's made of essential oils from menthol, eucalyptus and other "deeply heating" botanical extracts. Thanks to these ingredients, this product has a very distinct and strong menthol smell that might be too much for some. Also, it uses parabens and phenoxyethanol, two preservatives that have been linked to cancer and allergic reactions, respectively.
The Bottom Line: A pain reliever and massage lotion rolled into one, Nature's Sunshine Tei Fu Massage Lotion has an outstanding scent that may or may not please you. If you dislike massage lotions that have a distinct smell, and a strong one at that, the Tei Fu Massage Lotion isn't for you. But if you want something that will wake up your senses as you receive the massage, this one definitely fits the bill.
Massage Oil vs. Massage Lotion vs. Massage Cream: Which One Should I Choose?
First off, there's no one-size-fits-all answer for this question. As any massage therapist would tell you, there's a variety of massage techniques and modalities, each of which may require different types of lubrication.
For example, oil is ideally used if the massage involves more frictional movements, while lotion is recommended if you'll deliver deeper strokes that require less slipping. Massage creams, on the other hand, somehow lies on the middle: it doesn't get absorbed too quickly so you can work on the tissues longer with very little slip.
Also Read: 25 Easy Homemade Massage Oil Recipes
In general, massage lotions are more preferred both by the therapists and the clients. They are absorbed by the skin quickly, leaving no oily residues. As a result, you won't feel the need to take a shower after the massage.
Lotions and the thicker, more viscous creams are also easier to control, preventing spills and stains on bed linens. Take note that some massage oils like peanut and olive may leave hard-to-remove stains on fabrics which may become rancid even after washing. With lotions, however, this is usually not a problem.
For hospital workers, lotions are also the massage lubricant of choice. Bed-bound patients don't have the time and energy to have a regular bath, so massage oils that leave greasy residues are avoided. Oils also tend to decrease the protective capacity of the latex or vinyl gloves, putting both the patient and the healthcare provider at risk.