25 Easy Homemade Massage Oil Recipes
When I was still a massage novice, I tried a lot of things that could pass as a lubricant. Lotion, rubbing alcohol, menthol ointment, you name it. But while they're cheap and easily available, these lubricants barely gave the results I was looking for.
Fortunately, I discovered aromatherapy. And since then, I've never looked at massage the same way again.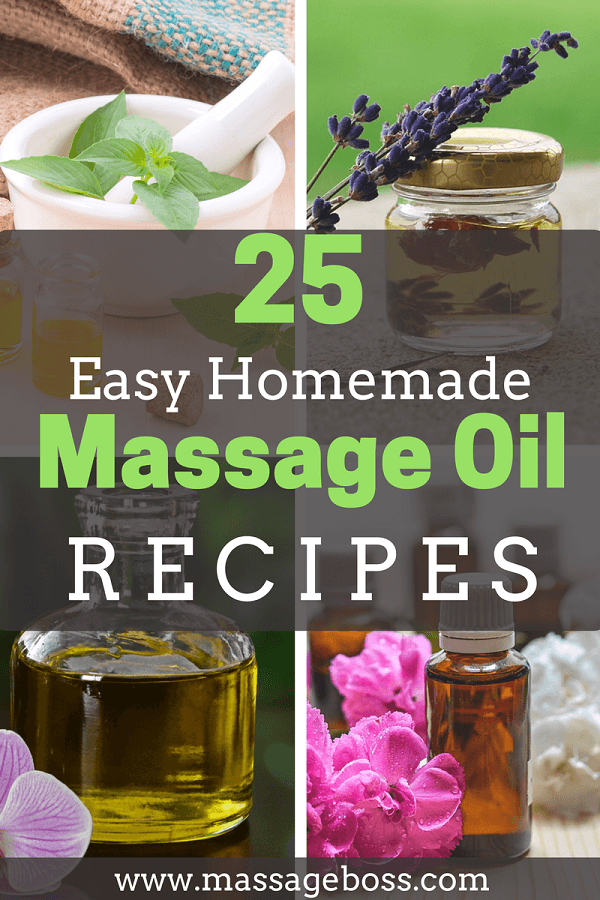 If you only imagine fragrances when you hear aromatherapy, you're not seeing the whole picture. Aromatherapy, in a nutshell, is all about essential oils and how they benefit your body holistically.
Essential oils are substances that give plants their distinct smell. These are found "in glands, hairs or veins of flowers, leaves, seeds, bark and wood, resin, roots or fruit peel of the plant." After being extracted through a process known as steam distillation, essential oils can be used in different ways.
When used as a massage lubricant, essential oils enter the body in two ways: through the nose or skin. When inhaled, essential oils have a calming effect and may help reduce stress and anxiety. They are also easily absorbed by the skin, after which they enter the bloodstream and assist in circulatory functions.
Also Read: Best Essential Oil Diffuser for Large Space: A Definitive Guide
If you're not a fan of massage oils at stores, no need to fret. Homemade massage oils are very easy to prepare. All you need is a recipe combining your favorite essential oils and you're good to go.
Things To Remember When Using Essential Oils.
*Do not ingest essential oils. Keep them out of reach of children.
*Keep essential oils away from flames.
*Put the oils in a sealed container and store in a cool, dark place. Excessive heat and light can damage their chemical composition.
*Avoid using essential oils near eyes and other sensitive areas.
*To test for skin sensitivities, apply a small amount of each essential oil on your skin with a Q-tip. Leave it for a few hours and observe for any adverse reaction.
*Essential oils are safe to use on babies, but not on NEWBORN babies.
*If pregnant, avoid essential oils such as thyme, rosemary, peppermint, marjoram, lemongrass, juniper, jasmine, cypress, fennel, clove bud, sage, cedar aurantiumwood and basil.
*If you will be exposed in the sun for long periods, avoid essential oils which increase the risk of sunburn. They include orange, mandarin, lemon verbena, lime, lemon, ginger and bergamot.
*If you have sensitive skin, avoid essential oils such as peppermint, thyme, orange, melissa, lemon verbena, lemon, basil, fennel and lemongrass.
*If prone to epilepsy, high blood pressure or kidney disease, avoid the following: rosemary, sage, fennel, thyme and cypress.
*If you will drive long distances after massage, avoid essential oils that cause drowsiness such as ylang ylang, marjoram and clary sage.
How To Make Massage Oil: 25 Homemade Massage Oil Recipes To Try.
Before trying a homemade massage oil recipe, ensure that it has the exact scent you love. Put a drop of each essential oil on a cotton swab. By doing this, you can have an idea what the finished product will smell like.
When mixing the ingredients, don't pour all of them all at once. Take it slow so you can find the right combination and adjust the quantity of ingredients as desired.
Essential oils are highly volatile and delicate. To keep their aroma and chemical composition intact, avoid mixing them vigorously or exposing them to excessive heat and light. Finally, leave a small "breathing" space in the bottle where you'll store the homemade massage oil. Ceramic or glass bottles are recommended.
Without further ado, here are some of the best homemade massage oil recipes we've found on Pinterest and all over the Internet:
1. Custom Homemade Massage Oil by Cultures for Health.
Cultures for Health lets you choose from different essential oils and carrier oils (i.e. oils that dilute the essential oils). There are ylang ylang and orange if you want a romantic massage; lavender and sweet marjoram if you prefer something relaxing; and peppermint if you want to be energized. There's also an optional Vitamin E which is an antioxidant that can prolong the shelf life of the homemade massage oil.
2. Skin-Nourishing Massage Oil Recipe by Wellness Mama.
For this recipe, the widely-popular blog Wellness Mama introduces us to a skin-friendly recipe made of almond oil (carrier oil) and lavender (essential oil). For starters, a carrier oil is added to dilute essential oils, preventing the latter from causing skin irritation. Chamomile and calendula flowers are also added through a double boiler method. These flowers are likewise great for the skin and also safe to use on children and pregnant women.
3. Love Lotion by Odds & Evans.
As the name suggests, this recipe is for couples who'd like to pamper themselves with a romantic massage. The love lotion recipe is made from sandalwood, jasmine and ylang ylang–essential oils with aphrodisiac qualities that perfectly complement a sensual, erotic massage.
4. DIY Sensual Massage Oil by Red And Honey.
Another massage oil recipe created to boost intimacy with your partner, it combines some of the most fragrant essential oils ever known: ylang ylang (an aphrodisiac), wild orange and sandalwood. One word of caution: Don't expose your skin to the sun for at least 6 hours after application. Wild orange is a photo-sensitizing oil which increases your risk of sunburns.
5. DIY Warming Rub For Sore Muscles by Pop Sugar.
If you constantly complain of sore muscles after a whole day of work, this one is right up your alley. Made from black pepper, ginger and other natural warming ingredients, this sore-muscle salve is a great alternative to those you usually buy at the store. Not to mention it smells great, too!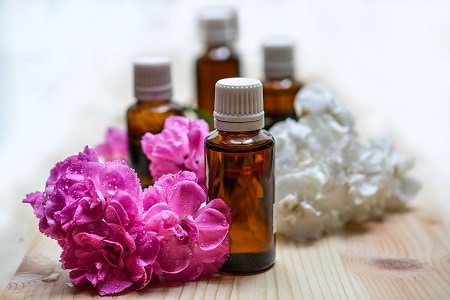 6. Herbal Massage Oil by Simply Healthy Home.
This recipe stands out for its simplicity. It requires only three ingredients, namely: arnica, lavender and sweet almond oil. The best part? You can also use the finished product to make a salve which lasts longer. Your tired and aching muscles will definitely thank you for this.
7. Homemade Massage Oil Recipe by Freebie Finding Mom.
Do you want a great Valentine's Day gift that you can make for less than 3 minutes? The blogger behind Freebie Finding Mom has a cool idea: a homemade massage oil made from almond, sandalwood, ylang ylang, rose and cinnamon. Not only does it work as a massage oil, but it can also be used to moisturize and perfume your skin. Talking about hitting two birds with one stone.
8. Rose Scented Massage Oil by Confessions of an Overworked Mom.
Do you suffer from sore muscles but don't want to have the smell of eucalyptus oil all over your body? This recipe could be the answer. By combining the relaxing effects and fragrance of almond oil and rose, this one puts a new twist to massage oil. Use it to give a satisfying back rub or to moisturize your face and skin before sleeping.
9. DIY Massage Oil for Couples by EverBlossom.
Perfect for couples massage, this recipe combines all the energizing and soothing essential oils in a bottle: grape seed, ylang ylang, sweet orange, ginger and clove bud. Be amazed by its unique fragrance while it provides relief from headaches, insomnia, fibromyalgia, and anxiety, among others.
10. "The Massage Oil That Helped Me Walk 60 Miles In 3 Days" by Jessica Cohen.
The title says it all: this massage oil recipe is one of the best home remedies for sore muscles you'll ever make. Jessica Cohen, the blogger behind Eat Sleep Be, can attest to this. After walking 60 miles for a fundraising event, she used this massage oil to quickly recover from muscle soreness. Made from castor oil and other natural warming ingredients, this recipe can be your best weapon against muscles aches for any occasion.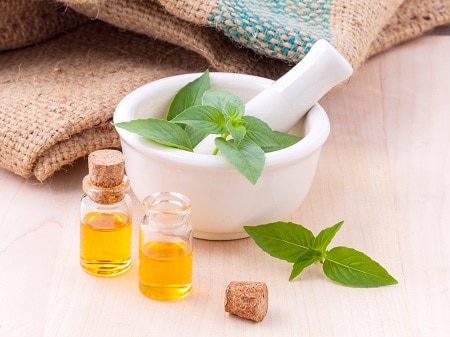 11. Women's Hormone Balancing Herbal Massage Oil by Frugally Sustainable.
Hormonal imbalances are one of women's greatest pet peeves. It's the leading cause of sleep deprivation, anxiety, hot flashes, weight gain, fatigue, fibromyalgia, food cravings and a host of other health problems. This massage oil recipe provides relief from all these by combining essential oils proven to restore balance and energy among women.
12. DIY Fibromyalgia Massage Oil Blend by Dr. Eric Z.
Fibromyalgia is a musculoskeletal pain that affects the whole body and is usually accompanied by fatigue, sleep deprivation and mood issues. If you're one of the countless individuals suffering from this disorder, there's a homemade massage oil recipe created just for you. It contains bergamot, camphor, lemon, peppermint and rosemary–essential oils that not only calms your mind but provides relief from muscle pain.
13. Hemp and Roots Grounding Massage Oil by Aromahead.
Being grounded means staying in the present, having a calm mind and basically being in good shape holistically. The Aromahead blog suggests one unique recipe to achieve this: a combination of hemp oil, known for its anti-inflammatory properties, and Ghandi root (whatever that is).
14. DIY Massage Oil With 6 Essential Oil Blends by HelloGlow.
HelloGlow went above and beyond by not just providing the basics of massage oil preparation but also providing 6 DIY massage oil ideas. Whether you're looking for a love potion for that erotic massage with your partner or a simple concoction to relieve tension on your feet, face or head, this list of recipe ideas got you covered.
15. DIY Massage Oil for Stiff Neck by Sheetal Pathak.
If your lifestyle or work always leave you battling with stiff neck, an Indian housewife and blogger has a simple homemade solution. Using only four all-natural ingredients which include garlic, Carom seeds, ginger and sesame oil, you can already have a massage oil that will restore your neck in no time.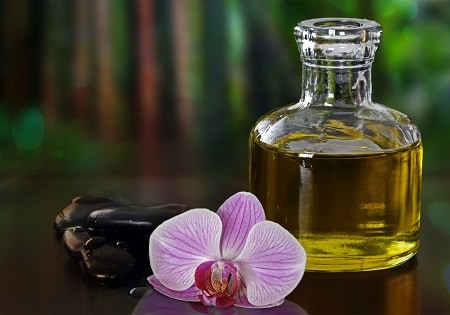 16. Edible Massage Oil With Aphrodisiac Essential Oils by The Herbal Spoon.
Edible, aphrodisiac and relaxing–three adjectives that perfectly describe an ideal homemade massage oil. The Herbal Spoon provides exactly this kind of recipe and more. There are three massage oil blends to choose from, all of which effectively soothe aching muscles, improve mood and relieve stress.
17. Homemade Baby Massage Oil by The Art of Simple.
Babies, like adults, also need gentle touch and a massage oil. The problem is, most products nowadays are questionable. We don't want our baby's skin to absorb anything that may harm them so we go for the all-natural, 100% safe alternative. If you're looking for that perfect homemade massage oil recipe for babies, this article has the answer. As if it's not good enough, it also comes with bonus recipes to get rid of cradle cap and diaper rash.
18. Homemade Scalp Massage Oil by DIY Network.
A healthy hair starts with a health scalp. So, when dry and frizzy hair is always bothering you, it's about time to give your scalp some nourishing massage. The DIY Network has shared an all-natural recipe made from jojoba oil, geranium, lavender and other great essential oils. The best part? The finished product can last up to 6 months when stored properly.
19. Homemade Baby Massage Oil by Stay-at-Home Mom Survival Guide.
By combining coconut oil and a baby-safe essential oil of your choice, you can already make your own homemade massage oil. This simple recipe by stay-at-home mom Jaimi is not only great for babies, but also safe to use as daily lotion/moisturizer for grown-ups.
20. Dandelion Massage Oil by Twig & Toadstool.
We only take notice of blossoming dandelions when spring is coming. Not anymore. As this blog has proven to us, dandelions can actually turn into an awesome homemade massage lubricant when combined with essential oils. Dandelions help relieve muscle aches and treat skin irritation. So much for a flower that we barely notice until now.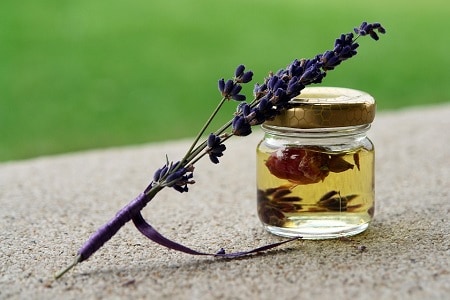 21. Invigorating Sensual Massage Oil Recipe by Simple Life Mom.
Feeling sleepy and exhausted? This massage oil recipe will help you start the day right. It has the wonderful combination of energy-boosting and relaxing essential oils such as almond, avocado, coconut, ylang ylang, geranium, and cedar wood. Not only does it smells great, it can also wake up your senses and give you the necessary boost anytime, anywhere.
22. Homemade Massage Oil for Bedtime by Kids Activities Blog.
While commercially available alternatives are full of harmful chemicals, this recipe is all-natural, meaning you can sleep tight knowing your kids aren't surrounded by health hazards. If you have busy and active kids, this massage oil will help relieve stress and even boost their mental performance.
23. DIY Massage Oil by Nourishing Joy.
A simple, straightforward recipe is what this is. Nourishing Joy presents the basics of massage oil preparation plus two massage oil blends of her own, each of which only requires three ingredients. Whether you're looking for a wedding gift or something that you can use on a daily basis, this no-frills guide is for you.
24. DIY Massage Oil for Hair Fall by Boldsky.
Are you craving for a good head massage? Why not incorporate some powerful essential oils so you can take care of your hair as well? This recipe, made from 100% natural ingredients, proves that something as simple as massage can do wonders in preventing hair fall.
25. Homemade Massage Oil With Essential Oils by Traditional Cooking School.
Nothing more convenient than a recipe with a simple mixing process and readily available ingredients. This homemade massage oil is exactly that. Using only four ingredients (tangerine, ylang ylang, sandalwood and almond), you can already have a relaxing massage oil you can use to self-massage or give someone a good rub.