20 Unique Relaxation Gifts To Pamper Your Stressed-Out Loved Ones
Relaxation gifts are the best alternatives to boring, hackneyed items that people only throw into their closets, never to be seen again.
Latest statistics show 77% of Americans regularly experience physical symptoms of stress, the cause of which is mostly job-related. By giving relaxing gifts, you're not only making a good impression but also helping to curb the epidemic of stress.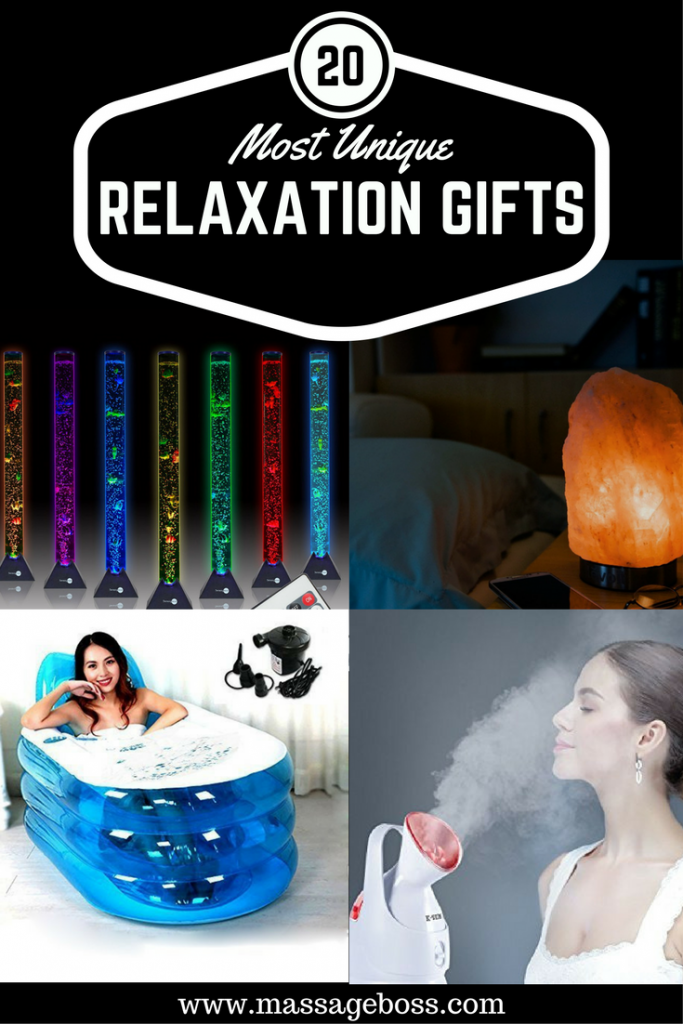 How We Picked The Best Relaxation Gifts.
To take the guesswork out of choosing the best gifts for relaxation, we used the following criteria:
User rating: We've scoured Amazon, the world's #1 online shopping portal, for items with a star rating of at least 4 and verified customer feedback not lower than 50. Although it may seem arbitrary, my experience as a product review writer has taught me to look at these numbers as a decent estimate of a product's quality.
Novelty/uniqueness: In order to become memorable, each item we've chosen should possess a quality or feature rarely seen in ordinary gift shop items. It must surprise, delight, and amuse the receiver all at the same time.
Relaxing properties: Of course, any relaxation gift won't make it on our list unless it can, in fact, relieve stress. Whether it's a beauty product for a complete at-home spa experience or a technology to help you blow off some steam, the goal should always be stress reduction.
Relaxation Gifts: Unique Ideas To Pamper Your Loved Ones.
Here are 20 of the best relaxation gift ideas on Amazon, chosen for their uniqueness, quality, and stress-busting properties:
Essential oils.
Lavender or rose? Orange or sandalwood?
For those who consider aromatherapy as completely outside of their comfort zones, it's impossible to choose. But if stress is taking over your life, the healing power of scents is the best therapy you won't mind putting in your "comfort zone."
And if you think you need to take an aromatherapy master class, Edens Garden provides an easier alternative: 12 bottles of different blends, each intended for a specific purpose–from stress and anxiety relief to meditation and easier breathing.
An ideal gift for those who prefer to start and end their days with an invigorating aroma, this set also comes with a free brochure featuring 150 ways to use or apply essential oils.
Foot Massager.
Our feet are perhaps the most overused parts of the body but ironically also the most taken-for-granted. Especially when you spend a great deal of your working time on your feet, the fatigue can take its toll on your health and become a source of constant stress.
Fortunately, there's a better way to relieve foot pain than bugging your loved ones about it. Brookstone Shiatsu Foot Massager is equipped with the most number of auto massage programs on the market, allowing you to choose the right massage that suits your needs.
It kneads, warms, and squeezes the feet, making it an ideal gift for teachers, nurses, retail workers or anyone who badly needs some foot love. For more information, please read our comprehensive guide to the best foot massagers.
Wall-Mounted Bubble Fountain.
In a time when aquariums and fountains are becoming ordinary fixtures in homes, Bubblewall's unique wall-mounted water fall fountain truly stands out. Made in the US, this futuristic gift can delight every homeowner who wants to bring the tranquility of spa in their living rooms.
From the comfort of your seat, you can watch the tiny bubbles as they dance within water-filled chambers, all while illuminated by color-changing LED lights. Not only is it relaxing, it also tickles every kid's imagination, attracts compliments from your visitors, and serves as a great conversation-starter for years to come.
Acupressure Mat.
A bed of nails has never been this relaxing and rejuvenating. But the nails aren't exactly "nails"; they are 6, 210 spikes so small that you won't mind lying on them for hours on end. These small elevations massage acupressure points in your body, stimulating blood flow and significantly reducing the levels of stress hormones called cortisol in your bloodstream.
Whether it's after a heavy workout or yoga session, this Spoonk acupressure mat will provide your loved ones with deep relaxation their bodies crave. Best of all, it also includes a smaller, travel-sized mat as well as a groove ball that can be rolled under the feet to relieve pain and plantar fasciitis.
Foot Spa Machine.
You don't have to make daily trips to the spa to take care of your feet. By simply using Carepeutic Ozone Waterfall Foot and Leg Spa Bath Massager, you can enjoy a foot spa at the comfort of your own home.
Complete with a built-in massager, drain nozzle, bubble jets, ozone therapy, thermostat, and herbal bag container, this all-in-one foot spa machine is the best relaxation gift for anyone who wants to enjoy a stress-relieving foot bath anywhere and anytime. For more information, read our ultimate guide to the best foot spa machines.
All-in-one Nail Care System.
For ladies, a spa experience at home won't be complete without manicures and pedicures. And what better way to impress the nail-loving women of your lives than to give them all they need in one fancy machine–Conair's True Glow All-in-one Nail Care Center.
This nifty device includes manicure bowl, 12 attachments, and a built-in nail dryer that allow your special lady to perform nail spa on her own–from soaking and shaping to polishing and drying–like a true blue professional.
French Vanilla Bath Gift Set.
If you want to be remembered, avoid giving traditional gift baskets like a plague. Instead, impress your overworked loved ones with luxurious bath items packed inside a natural two tone wood jewelry box that is just as elegant as its contents.
Freida & Joe's French Vanilla Bath Gift Set will take your stressed-out friends or relatives to the most exotic places, thanks to its home spa essentials–including bath salts, lotion, bubble bath, and shower gel–all of which are oozing with an exhilarating aroma reminiscent of Victoria Secret's most expensive scents. Indeed, a relaxing gift basket with a twist.
Eye Pillows.
These eye masks are more than meets the eye. While others of its kind only promise to take care of your eyes so you can get a good night's sleep, this set of colorful eye pillows actually relieves stress–the root cause of headaches and insomnia that keep you awake at night.
Each of the 5 eye masks contains a combination of lavender and flax seed, the aroma of which has been proven to calm your senses, reduce stress, and help you sleep better. You can also chill it for two hours and use it to rejuvenate tired, puffy eyes.
Sleep Sound Machine.
Do you know someone who has trouble sleeping? Why not give the gift of relaxation in the form of a sleep sound machine? This innovative device provides white noise through its huge library of soothing sounds that mimic reality–from ocean and waterfall to rainfall and brook.
Unlike other products, the Sound+Sleep High Fidelity Sleep Sound Machine is also able to analyze existing sound in your room and then neutralize it by remixing different sounds from its library. With 30 non-repeating sounds that adapt well to the environment, this sleep sound machine effectively blocks distraction, minimizes stress, and improves your concentration.
Himalayan Salt Lamp.
Not all lamps are created equally.
Some, like the Levoit Elora Himalayan Salt Lamp, exudes a natural beauty when off but suddenly turns into a stress-relieving masterpiece of nature once lit. The warm amber light it gives off illuminates any dark room and provides a calming ambiance you won't get from ordinary lamps. 
It has a genuine Himalayan salt extracted deep from the mines of Khewra, Pakistan. It also has a touch-controlled dimmable lighting and a stainless steel base that makes it one of the more durable and sturdier lamps you can find.
K-SKIN Nano Ionic Facial Steamer.
Stress and pollution wreak havoc on our bodies every day. Unfortunately for our face, any damage will be immediately visible, affecting our self-confidence and ruining our chance to make a good first impression.
Women have it worse: while wearing heavy cosmetics covers up their blemishes for a while, it exposes their skin to even more potentially harmful chemicals.
Of course, availing of skin treatments may do the trick. But you don't have to spend dollars every week to get spa-quality facials; with K-SKIN Nano Ionic Facial Steamer, you let the spa itself come to you.
Providing nano-sized steam particles with one push, this intelligent device lets you enjoy the relaxing effect of steam while moisturizing and cleansing your skin deep into the pores. Perfect for anyone who doesn't want stress to literally get into their skin.
Ocean Wave Projector.
Imagine walking by the seashore, with the soothing sound of the ocean waves inviting you and the gentle dolphins dancing from a distance. This is how visualization works as a form of relaxation–helping you immerse in a calming place without actually being there.
But what if you can take your experience further and actually bring the calm of the sea inside your room? With the Remote-Controlled Ocean Wave Projector, this is achievable.
Ideal for all ages, this amazing device can project powerful visuals to any room, thanks to its 12 bright LED lights and 7 lighting modes. It can mimic far-away galaxies for the kids to marvel at or create a watery ocean atmosphere to help you unwind.
On top of these, it offers lullaby music–ranging from forest insect to ocean wave sounds–so you can enjoy deep, uninterrupted sleep.
Bubble Tube Floor Lamp.
The sight of bubbles and bobbing fish is enough to calm one's spirit, not to mention captivate a hyperactive, overly distracted child. But with the hassles of keeping a live fish, the idea of owning an aquarium daunts many. But not with Sensory Bubble Tube Floor Lamp.
It's a unique aquarium standing at 3.3 feet and with streaming bubbles, colorful plastic fish bobbing up and down, as well as color-changing LED lights which, when put together, make a breathtaking spectacle everyone will keep talking about.
Whether it's special needs kid or an adult looking for a relaxing centerpiece for the living room, anyone who receives this will not only be impressed but will have something to remember you by for years to come.
Portable Bubble Massage Spa Set.
For anyone with a spacious garden, the Intex PureSpa Bubble Massage Spa will be a welcome addition.  This portable device fulfills everyone's dream of spending an afternoon soaking in a warm tub of water with bubble jets providing a refreshing massage.
Ideal for up to 4 people, this massage spa has a built-in treatment feature that softens water, making it gentler on your skin. It also lets you choose the temperature and keeps it all throughout use, allowing you to enjoy bonding with friends and family without worrying about the water getting cold.
Inflatable Bath Tub.
When space is limited and the budget is tight, the Opar Adult Inflatable Bath Tub is the closest thing to the real one you'll ever find. Not that it's just another lame alternative; it has a stable base, good ventilation, and a durable design that perfectly follows your natural body curve
Whether you're looking for a portable bath tub to use during your out-of-town trips or a reliable spot where you can soak your sore body after a stressful day at work, this unique product will provide the relaxation you need.